Finding the right Television studio fabricator in Doha when the big event is nearing can turn into a herculean task. FIFA 2022 is a global event and therefore, the best only stays within the premises, only the finest will attract a global audience. There are numerous options available, and we are here to assist you in making the finest decisions possible when it comes to set backgrounds and television studio furniture. First and foremost, you need to have a floor plan for the studio space to start with.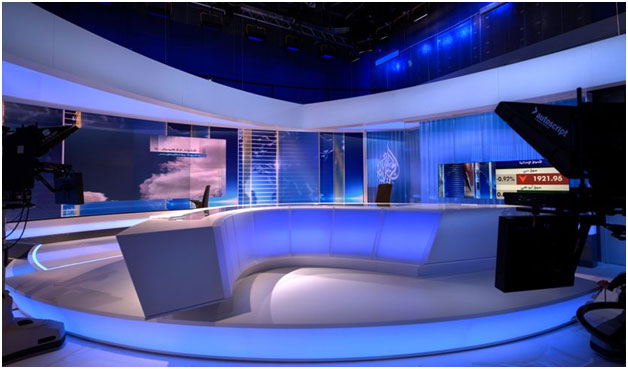 Vega events, one of the prime TV/studio set fabricators in Qatar has been serving premium clients for quite some time. Our dedicated engineers and designers, after understanding your requirement, a plan is put forth. The team will ensure that the right measurements of the entire space are taken and calculate the amount of space required for the set pieces. When finalizing doors, one needs to consider the swing area, the direction of opening and which doors can be avoided.
Further, the lighting of the space is a major factor in deciding the functionality of the set. The heights of the lighting grid need to be measured before the fixtures. We use anti-reflective glasses in Doha to enhance the studio experience.
Using high quality acoustic equipment in Doha allows your studio to be completely isolated from an external sound sources making your TV studio sharp and clear. One needs to check if there are any protrusions which can hinder any set elements. Vega events make sure that all safety regulations and restrictions by the client and the approving authorities are sanctioned before the project is commenced. A detailed timeline of the project is provided to the client so that the progress is transparent and suggestive.
Most event coordinators have a tough time selecting furniture for their studio. We check with our clients and settle down either for a permanent television studio or a dismantlable one. We have a dedicated carpentry wing who are skilled to make furnitures that fit your show and the over all structure. Vega events provide both modular stands in Doha as well as adaptable stalls. We also help you with the chroma key, both blue and green, as per your requirement.
We have a well dedicated logistic team, working closely with the installation and design team to materialize your TV studio. We also offer a transportable set or a movable background, which includes TV monitors that can either be mounted on the set or displayed separately. We also check for the possibility of using risers, which are placed keeping in mind the height of the set background for wide-angle viewing.
A majority of individuals have no idea what they want when it comes to their talk show background or television studio's brand. And that's fine because Veega events can help with the best TV/Studio/New Set fabrication for FIFA 2022 in Doha, as they have the reputation of trusted event contractors in Doha.
We have designers and engineers who would be delighted to interact with you and discuss your requirements, desires, and goals. We would do look at our set background possibilities, even if you want a fixed set and vice versa. Save and make a list of your favourite and least favourite photographs or renderings.
Next, I'd suggest watching some YouTube channels and doing some study on the shows you appreciate and wish to replicate. Take screenshots of the settings you like and don't like, and share them with us so that we get an idea of what you are intending to see and feel from the studio.
If you don't know what you want, our experts will be able to assist you in creating your ideal setting with all of this information. Fixed studio set backgrounds, Modular/Versatile and flexible set backgrounds, Virtual environments, Tv Set designs in Doha for small studios, Tv Studio backdrops for large studios, Tv Set designs that allow for continuous additions, and TV backdrop accessories are all available with us. Call us right now at +97433135104 to speak with our engineers or designers.
Keep in mind that everything is adjustable, from different finishes and textures to new colours and patterns– you only have to ask. If you don't see what you're searching for, let us know and we'll make it for you. Remember, at Vega events, you are at the right place, and we assure you get the perfect background for your studio for the FIFA 2022 Doha! Welcome to Vega events, Doha.